Apartments in Washington, DC
Welcome to Carillon House, an elegant nine-story apartment community in northwest Washington, DC that blends classic design with modern convenience and amenities. Prominently situated on the corner of Calvert and Wisconsin Avenue at the summit of the peaceful
Glover Park neighborhood
, our newly renovated units and rooftop sundeck offer breathtaking panoramic views of the Washington, DC skyline.

Our collection of studio, one, and two-bedroom apartments are the ideal destination for those seeking a refined and relaxed lifestyle. For those that are seeking a simple move-in, we also offer fully furnished apartments that combine modern styles with the comforting feeling of being at home. Our residents are welcomed into a world of first-class amenities, including newly renovated apartments with breathtaking city views, double-pane windows that allow the warm sun to flow into in your living space, and a rooftop sundeck to take in the cityscape. A state-of-the-art fitness center and business center ensure that both work and leisure can be accomplished with ease. Carillon House's prime location provides the perfect setting for an invigorating urban lifestyle. Surrounded by great shopping, dining, and entertainment options, our residents are just minutes from downtown Washington DC and a stone's throw from Georgetown University, American University, and the Duke Ellington School of the Arts. Explore the nearby Naval Observatory, National Cathedral, and Georgetown Park Shopping Mall, and immerse yourself in the rich cultural tapestry of the city. Allow us to invite you to peruse our available floor plans and photo gallery and imagine yourself enjoying all that Carillon House has to offer. Your dream home in Glover Park is just a phone call away!


Professionally Managed By: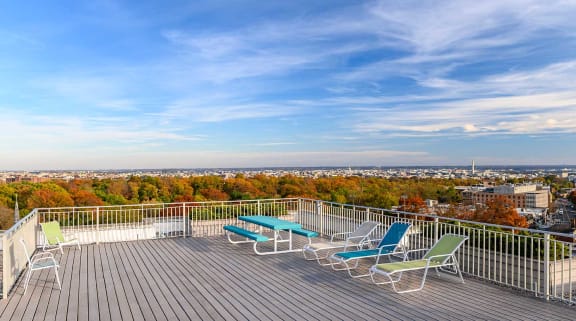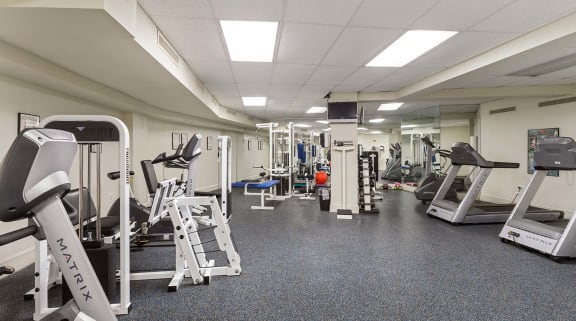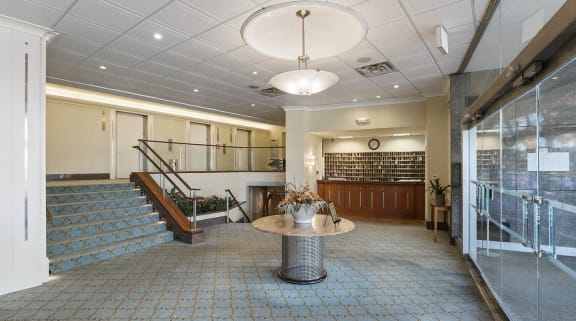 From the minute you walk into our sunny and welcoming lobby, both the communal and private living spaces at Carillon House are designed to make you feel right at home. All utilities are included with rent, and friendly on-site maintenance and management staff are here to address your every need.

Want to take a break after a long day? Relax on the rooftop while enjoying jaw-dropping city views that stretch from the Capitol to the National Monument. And our onsite gym, bike storage and easy access to walking trails are here to help you maintain an active lifestyle any time of year.

For residents working remotely, our community-wide WiFi, business center and double pane windows all help ensure you have the connectivity and quiet needed to get the job done.

From our smaller efficiency units to our generously sized one-bedroom apartments, all homes feature hardwood floors and a fully equipped kitchen. Select apartments have also been recently renovated to include stainless steel appliances, granite countertops and walk-in closets.
PHOTO GALLERY
Take a look around
Browse the Carillon House photo gallery for a sneak peek of our communal living spaces and apartments, as well as some of our favorite scenes from the surrounding Glover Park and Georgetown neighborhoods.

FLOOR PLANS
SPACIOUS STUDIOS AND ONE BEDROOMS
We offer both unfurnished and furnished apartments in a range of different floor plans and price points. Smartly designed to maximize living space, our apartments range from 376-800 square feet and are priced to fit a range of budgets. You can check out what's available now, view special offers, and schedule a tour on our floor plans page.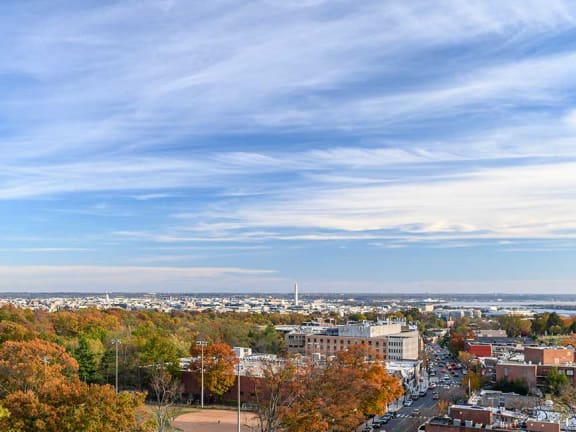 THE NEIGHBORHOOD

Glover Park


This little corner of Washington, D.C. offers the best of both worlds—it's a serene neighborhood with wide-open green spaces that still provides easy access to the world-renowned dining, culture, and buzz of our nation's capital.

You can step right outside Carillon House to local grocery stores like Trader Joe's and Safeway, take a meandering stroll down into historic Georgetown or Embassy Row, or hop on a Capital Bikeshare or the D1 or D2 bus to explore more of Washington, D.C. Work and play are at your doorstep here.

Our residents love it here
Testimonials
Carillon House Apartments is a nice place to live. Firstly, all staff (leasing officer, front office/concierge team members and maintenance staff) are professional and responsive! I love it. It is spacious just what I needed. The kitchen was newly renovated. The rooftop has the best view of all Washington DC!!! My apartment unit facing Calvert Street is quite, not loud. I would highly recommend this apartment!

- Carillon House Resident
The complex is within a half mile of Safeway, Trader Joe's, and CVS. It's also an easy mile walk to Georgetown. The windows are huge bringing in tons of natural light. Our apartment was newly renovated with modern lights and appliances. There's a fridge, microwave, oven, dishwasher, and gas stove in the kitchen, along with a garbage disposal. Utilities and WiFi are also included. The AC works great, and the WiFi is fast. There's also on-site laundry and a gym.

- Carillon House Resident
Coming from out of the DC-MD-VA area, I accepted a job offer and the turn-around time was very short. Carillon Apartments helped to speed up the lease signing and move in process. The staff was very helpful and helped make the entire moving process easy.

- Carillon House Resident
Carillon House located in Washington D.C is such a nice apartment. The leasing agent (Michelle Chambers) is by far the nicest leasing agent I have worked with. She is patient and works hard to make sure I get what I need. The move-in process was smooth and despite the fact it is located in downtown, the building is quiet most of the time. I enjoy my time here and would recommend it to anyone who plans to relocate to Washington D.C.

- Carillon House Resident
I am a graduate student at Johns Hopkins University. I spent a week looking for apartments. I've visited several, but Carillon House Apartment is definitely the best of all. The community is safe, 5 minutes walk to Trader Joe's, CVS. 10 minutes walk to bus station. And guess what, the amenities are the best compare to other apartments in the same price range. Definitely recommend this apartment.

- Carillon House Resident
I will be moving into this building in a few weeks. Michelle Chambers, Leasing Consultant, was a pleasure to work with and showed me numerous available units until I found the perfect one. Michelle was easy to contact and ensured that the application process proceeded smoothly and quickly. I had an excellent experience during what would otherwise be a stressful period of time. I highly recommend working with Michelle Chambers and I look forward to moving into my new apartment!

- Carillon House Resident
This community is wonderful and the staff is very friendly and supportive. Also it has nicest office service for the residents. They helped me when I have questions for my lease and rent or any maintenance request. It has been a great experience to live here!

- Carillon House Resident
Great complex!! Apartments are extremely nice and renovated and maintenance comes the day of when you submit a request. Office staff is also really nice and the front desk greets you whenever you're coming in. Haven't had any issues since I moved in last year. Highly recommend!!

- Carillon House Resident
The staff in Carillon House are very warm and welcome. The maintenance requests are always made promptly and the neighbors are all very friendly. Nice location with reasonable price and highly recommended to GU students!

- Carillon House Resident
The Carillon House has wonderful kind staff and very clean apartments upon move in. Only been here for a few days, but has been good. Definitely would recommend to those looking for quality housing that is relatively affordable

- Carillon House Resident
I am so happy to be the resident of the Carillon House Apartments. I am thankful and grateful for Meriem, who consulted and helped me to find a unit, which best fit my wishes. From the start of an application until the move-in date, Meriem was always in touch with me regarding the documents submission and payment procedures. Thanks to her professionalism, everything was perfect. My second impression after the move-in is Community Team. The most wonderful and Kind people, I have ever met.

- Carillon House Resident
Quiet, clean and gorgeous views. 24 hour staffed front desk and high security. Maintenance staff is very friendly and always willing to help out and get your job request done as soon as possible. Extremely friendly & respectful neighbors.

- Carillon House Resident
Great service, maintenance requests are immediately carried out, staff is very helpful and friendly. Great amenities such as 24/7 front desk and package, great central location, amazing rooftop with beautiful views.

- Carillon House Resident
Great experience, professional staff, clean apt and beautiful grounds. The community is conveniently located with bus stops, parks, restaurants, great schools and other amenities. Most problems, if there are any, are addressed and solved immediately. Great place to call home

- Carillon House Resident
The location is fabulous - close to grocery stores, banks, shops, restaurants, parks, etc., and only a mile walk down to Georgetown. The leasing agent was very helpful and the office staff responsive to all queries or requests for service. The concierges are likewise terrific.

- Carillon House Resident
GET IN TOUCH
Interested in visiting our property? Fill out the form or call the number below and we will reach out to you shortly! We look forward to hearing from you!